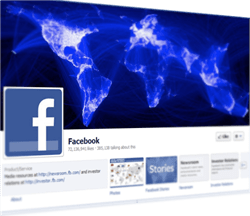 In my first post about Facebook Marketing, I showed you how to utilize Facebook's Timeline layout for optimal results with brand's page. Now, I'll show you how you can use your Facebook page to market your brand.
When marketing on Facebook, there are five key things to remember:
Branding. Any social media, especially Facebook, should always reflect your brand. From the images you use, to the tone of your posts and your response to customers, your brand's message should always show through.

This doesn't mean that every single post has to have a direct correlation with your company. For example, if your company sells wine, you shouldn't only post about things that directly deal with wine. You could, however, make posts about wineries, foods that pair well with wines, and other things that have to do with the lifestyles of your customers.

Images, images, images! Like the number one rule of real estate, the number one rule of Facebook is "images, images, images!" Without images, your page will not do well. Images not only draw more attention from users, Facebook puts more emphasis on images and gives them a higher chance of being seen within your follower's News Feeds.

Promotion. Marketing on Facebook is no good if no one is following your page. It's important to make sure that after you've spent all this time creating an engaging page that you let people know it's out there. To get the most out of your page, you may want to consider investing some resources in Facebook Ads.

However, you don't have to spend money to promote your page – use the resources you already have. Do you have an email list? Send out an email blast to let your customers know that you have a page (be sure to include a link to the page) and tell them why they should like your page (will they have access to coupons? Sweepstakes? Exclusive content?). Make sure that your employees also go in and like your page. They may not be your target audience, but it's an easy way to start to grow your base and engagement (both of which help increase your Edge Rank = better chance of showing in News Feeds).

Know that you're not going to make a sale. I won't be the first to tell you that Facebook, well, social media in general, is not about making sales. It's not about promoting your product. Yes, you can get qualified leads from social media and, yes, there will be those companies that have made a sale directly via social – but that should be the exception, not the rule.

Social media is about relationship building. How do you build a relationship? Through communication. Talk with your fans. Don't be afraid to have a conversation with them. Embrace the negative comments (if you never hear any criticism about your brand, you'll continue to walk around thinking you're perfect, and let's face it, no brand is).

Test, track and test again. Since you should be posting to Facebook 1 – 2 times per day for your brand, you have the ability to test something new every day. That's like having 365 tests per year. Try different types of posts, different types of content and different topics to see how/what your audience responds best to in order to make sure your page is as engaging as possible.
In the end, there is no 'one way' to market your brand on Facebook. Images may work best for your brand and quick inspirational quotes may work best for another brand. The key to marketing on Facebook is finding what works for your brand and your audience and actively engaging and modifying your posts to fit their needs.
What do you find works best for marketing via your brand's page?